Princess Cecille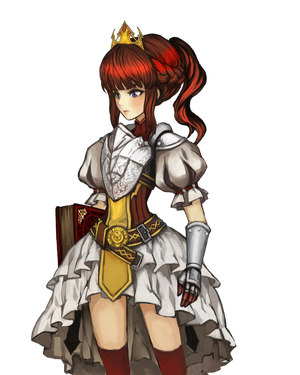 Princess Cecille is a princess who is ascending as the rightful ruler of the continent in Fallen Legion. She is protected and accompanied by Legatus Laendur.
Princess Cecille, the only living heir, spent much of her adult life living away from her father, the Emperor of Fenumia. Growing up in the royal castle, she was often ignored and rejected by her father. Maurice, a trusted adviser to her father was asked to be Cecille's, caretaker. Resentment for the royal throne grew within Cecille from a young age and as a result she despises royal politicking and the reponsibilities that come with ruling kingdoms.

During her time away from the shelter of the royal castle and capital city, Cecille grew to be a renowned military leader. There were rumors that much of Cecille's conquests were due to her father's manipulation placing her where she would easily be victorious. Legatus Laendur, a legendary hero, was also placed under her command as a result. Despite the rumors, Cecille always strived to be the best military commander she could be, to build her own legacy.

After hearing of her father's death, Cecille now must return home and rule Fenumia.